Government Digital Trends Survey Report

2015-2017




The view from civil servants



In 2015, Sopra Steria commissioned Dods Research to ask civil servants a series of questions about digital transformation, its impact on their work and the services they provide.

Since then we have captured the views of nearly 4,500 UK civil servants. Their responses provide an insight into how digital is understood, the benefits realised and obstacles to overcome.



So what is the reality of delivering digital services in government?



The vast majority of civil servants are embracing digital - 88% say digital is changing the way they work and 69% are confident that citizens and service users will also benefit from digital. However, this enthusiasm can only be sustained if a growing digital skills gap and capacity contraints are addressed.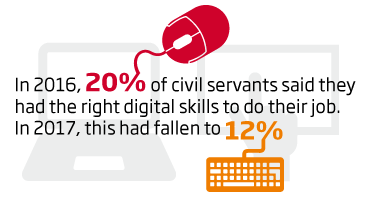 The Government Digital Trends Survey 2015-2017 explores three years of data to reveal the enablers and barriers to change across Whitehall and beyond.


Complete the form below to download the full results of the survey.